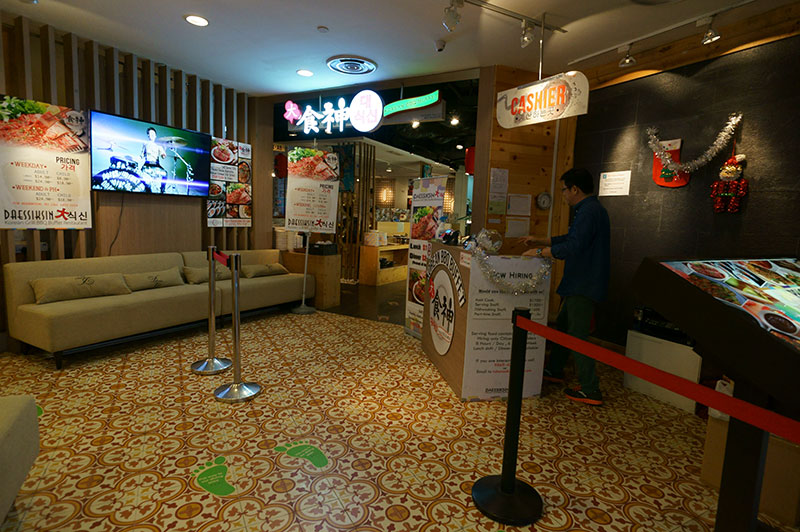 Several years ago, I developed a deep appreciation for Korean BBQ buffets. With a free flow of meat and drinks, they offer tremendous value for around $25. The pay-forget-indulge model is very attractive, and since then, I've eaten at several Korean BBQ restaurants that range from no-name hole-in-a-wall establishments to crowd favourite Ssikkek BBQ.
Ever since the Crystal Jade Korean BBQ restaurant at Nex closed down, I've been looking for an accessible Korean BBQ buffet around the Kovan and Serangoon area, so I was pleasantly surprised to learn of Dae Ssik Sin (DSS) during a recent trip to Serangoon Nex. A quick Google search brought me to AdelineSays, who claimed in her review that DSS was actually Ssikkek BBQ under a different name.
She wrote, "Dae Ssik Sin was formerly known as Ssikkek, a brand most food enthusiast would know. "
Ssikkek at Nex?! Really?! I was excited at the prospect of having Ssikkek so close to home, so I went down to DSS on a Monday night with high expectations and an empty stomach.
I wish Adeline had conducted some proper research because Dae Ssik Sin is not Ssikkek. The cashier confirmed this when I asked him point blank, "Is this restaurant related to Ssikkek?" He said, "No. Both are Korean BBQ restaurants but we are not the same restaurant."
But is it any good?
DSS does not tastes like Ssikkek, and  I found the former to be rather middling; there's nothing exceptional about the dining experience, but there's nothing terribly off-putting either. Personally, I prefer the meats at Ssikek, and the best I can say about DSS is that it is pretty decent.
DSS offers the following meats:
Chicken Bulgogi
Chicken Spicy Bulgogi
Pork Belly
Pork Bacon
Pork Collar
Pork Marinated Ribs
Beef Short Plate
Beef Bulgogi
Beef Rib eye
Beef Short Rib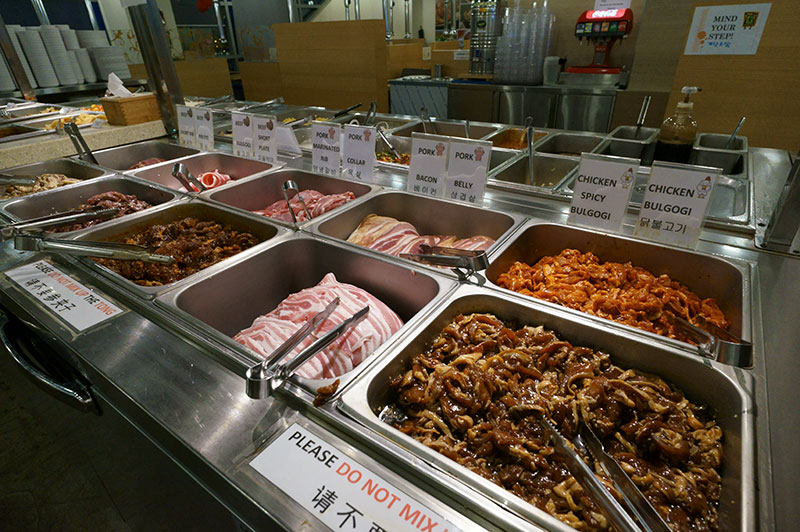 The quality of the meat is quite fair, they weren't the juiciest or leanest cuts I've had, but they were well-seasoned and reasonably tasty.  I am a big fan of spicy chicken bulgogi, but at DSS, I actually preferred the meats that were marinated with a sesame seed oil base.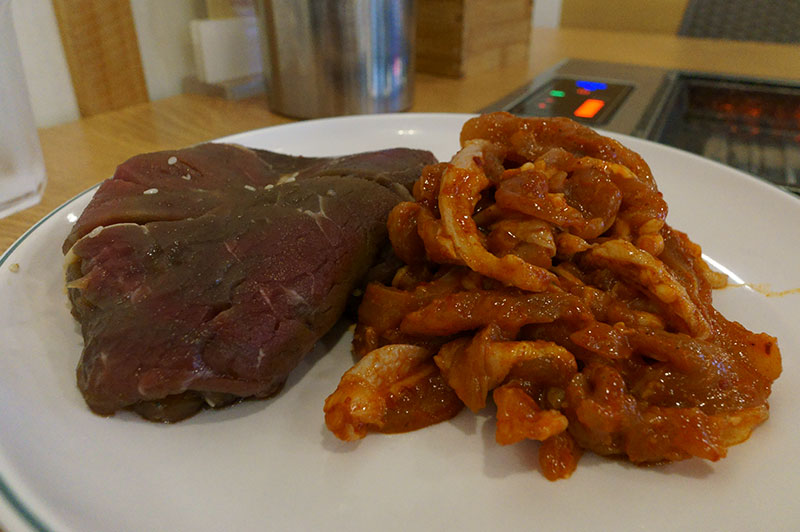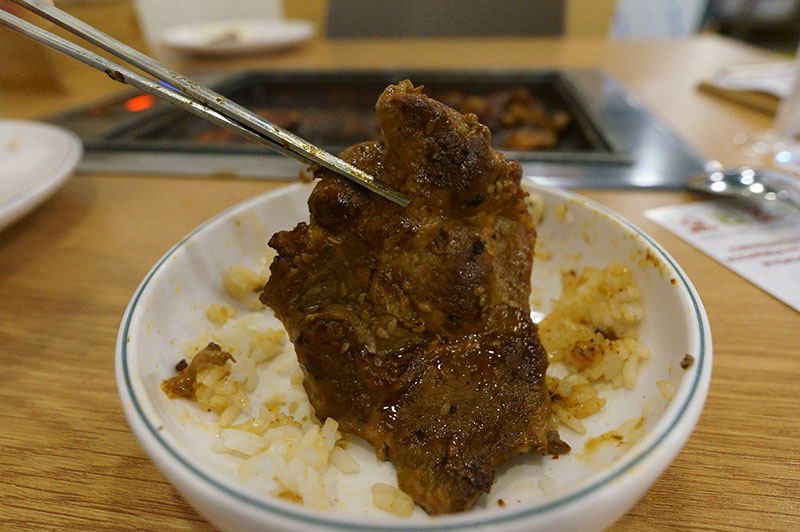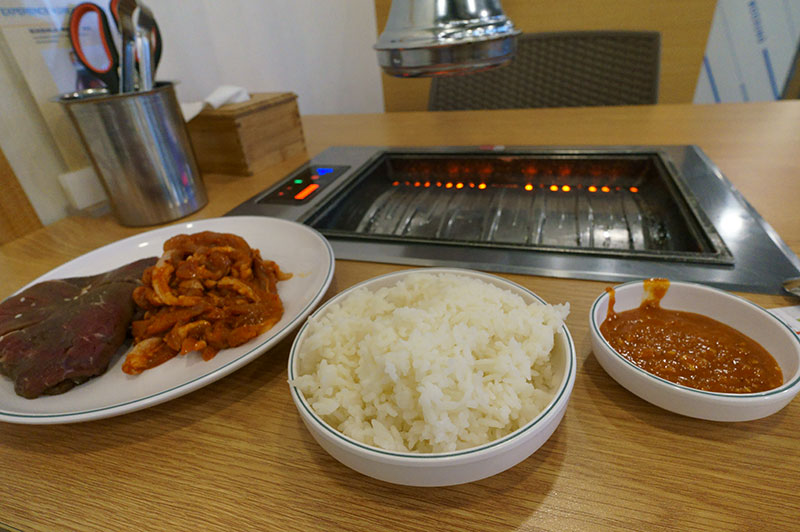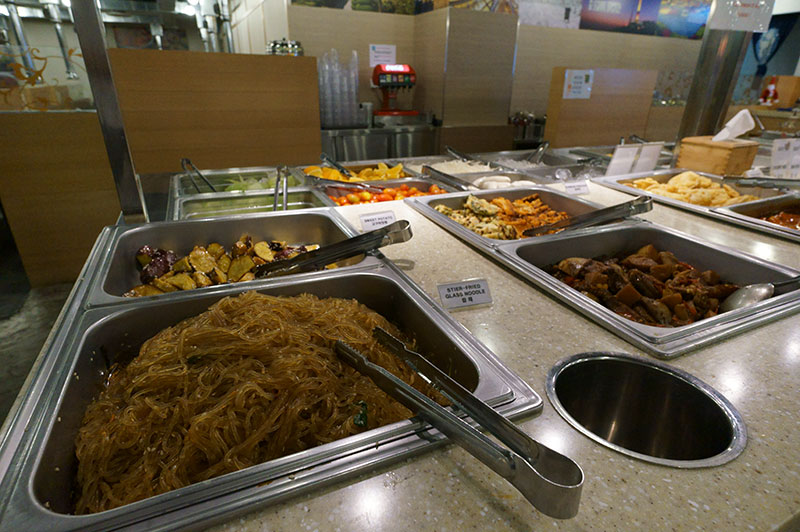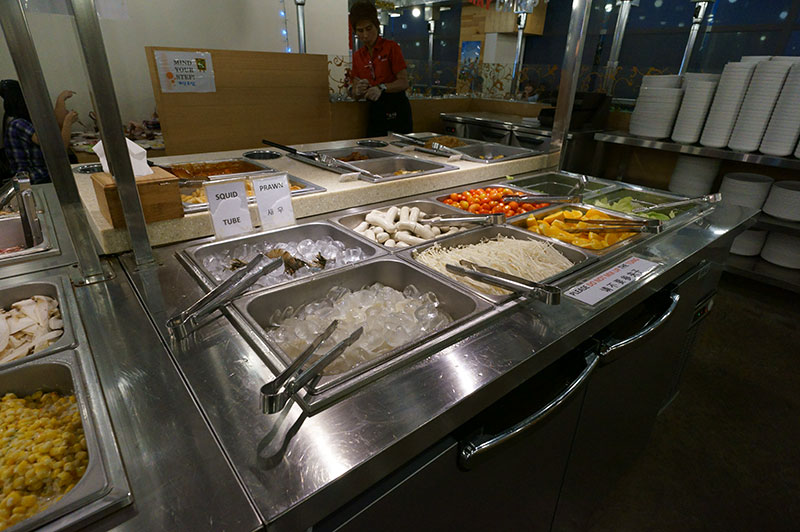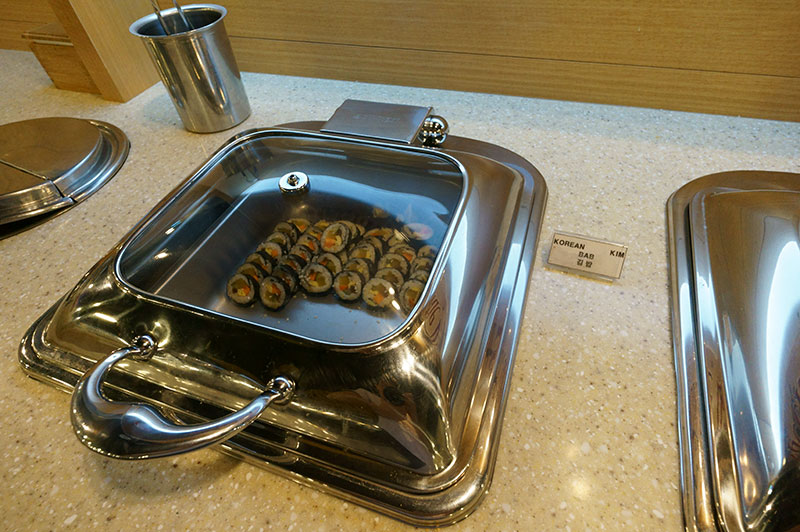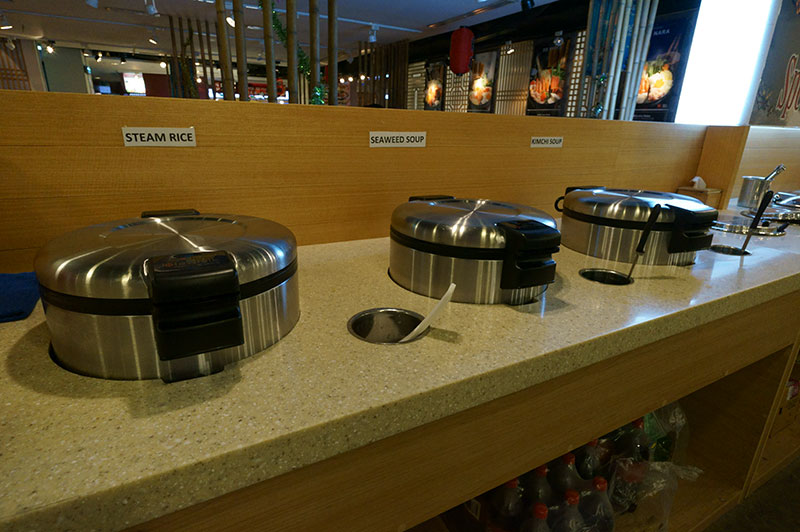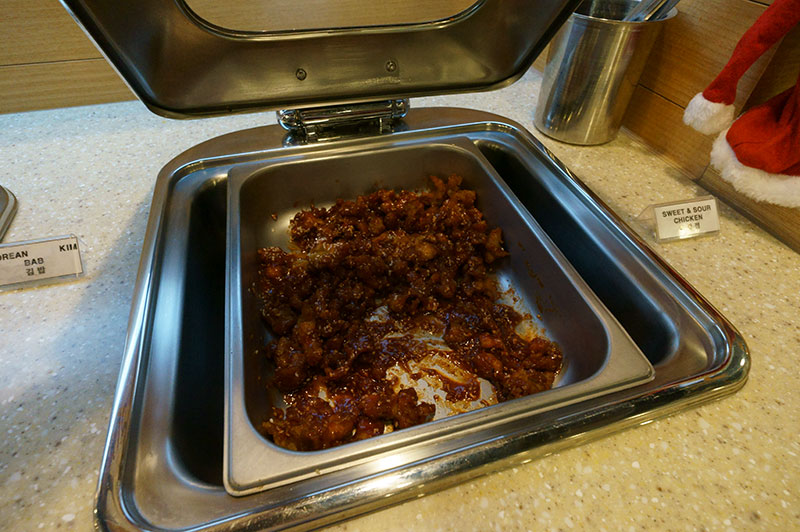 DSS also offers the typical side dishes you find at most Korean BBQ restaurants including sweet and sour chicken, rice, soup and of course, kim chee.
Included is a free-flow of Korean hot tea, Coca Cola, Sprite, ice water, Heaven and Earth ice lemon tea, and Fanta orange or grape. I'm not a fan of any of these beverages, but I am glad that they provide  reasonably-sized glasses instead of the small, and insulting glasses used by Ssikkek.
I've had urine sample containers that were larger that Ssikkek's glasses. Seriously, what gives Ssikkek?
Korean BBQ without the after smell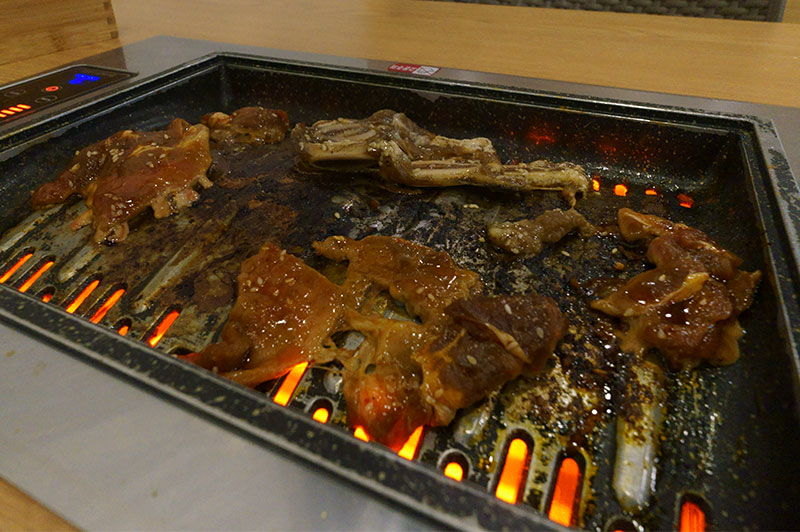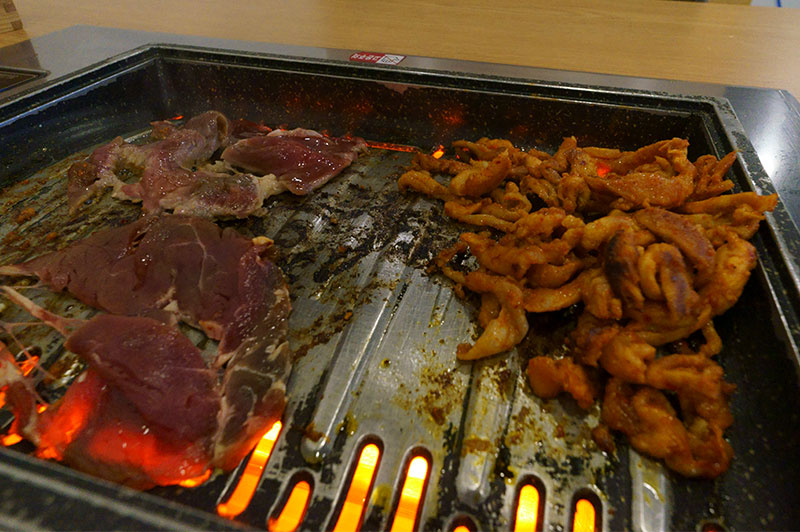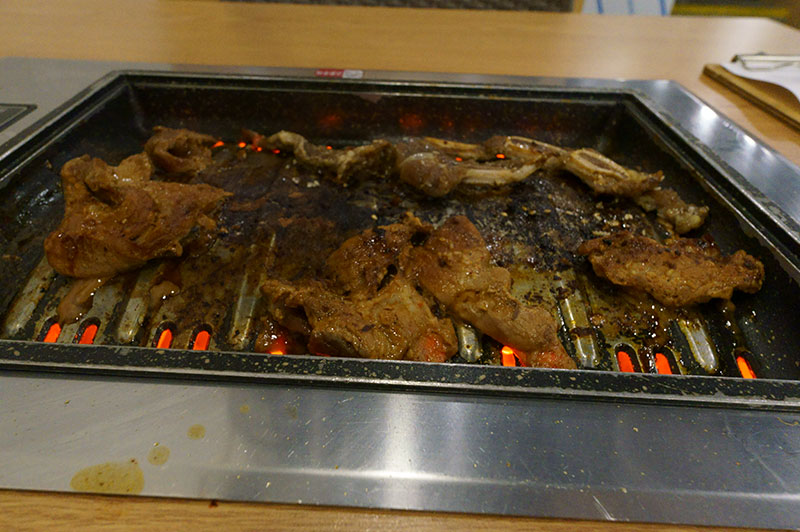 Having eaten at many no-name Korean BBQ restaurants, I was impressed by how efficiently DSS's cooker hood sucked up the smell of the food from the grill. I could literally see the steam from the grill being sucked up by the low-hanging cooker hood. The individual cooker hoods lead to a shared vent on the ceiling that snakes around the restaurant. This gives the restaurant a slight hum as it works in the background. It's not obnoxiously loud or grating, but that means the restaurant isn't pin-drop-quiet either. If you want to whisper sweet nothings to your significant, eat elsewhere.
But then again, who goes for a BBQ buffet on a romantic date?
The well-implemented cooker hoods mean that after one-hour of cooking, I left the restaurant smelling like my usual manly self, instead of  a heaping chunk of oiled-up, and greasy chicken bulgogi, though some would argue that there is no difference to both scents.
Dude, where's my ice-cream?
The strange thing about DSS is that it shares floor space with another buffet restaurant. This doesn't detract from the overall experience, but when I was escorted to my table, the wait staff failed to inform me that there is an ice-cream counter shared by both restaurants. The ice cream cooler is situated closer to the other restaurant and it is easy to overlook. I only noticed this at the end of my meal, when I was leaving to pay my bill. I asked the cashier about it, and he informed me that the ice cream counter is shared and meant for patrons from both restaurants, but it was too late. "I left the restaurant without any ice cream," the saddest words I have ever written since leaving a buffet restaurant.
Considering the unusual arrangement, and how the ice cream counter is placed away from the main buffet counter, they should have done more to inform patrons of the ice cream.
DSS literally has more signs informing patrons that the buffet is limited to two hours than signed about the ice cream. Tsk, tsk.
Location and pricing make-up for its quirks
If you are looking for Korean BBQ located on the North-East train line, Dae Ssik Sin is a respectable choice. It may not have the widest variety or the best quality,  but at $24.90 per pax for dinner ($29.31 after GST and service charge) it offers a quick and convenient fix for anyone with a hankering for Korean BBQ. It also has ice cream. I think.
Dae Ssik Sin (located in Ministry of Food #02-04 to #02-06)
Serangoon Nex
Patrons are limited to 2 hours of eating
Weekday
Lunch: $14.90++ (Adult)/ $8.90++ (Child)
Dinner: $24.90 ++ (Adult)/ $18.90 ++ (Child)
Weekend, eve of and on Public Holidays
Lunch/Dinner: $24.90 ++ (Adult)/ $18.90 ++ (Child)
For reservations, call 6853 5054.