As we start 2015, it only seems fitting that I take a look back at 2014.
Turning 30
I turned 30 years old this year, which in itself wasn't a very difficult , after all I simply needed to survive for 30 years. Typically, I also don't care much for 'milestone' birthdays, but turning 30 was a good way for me to take a look back at what I've done and to gauge where I'm headed.
I am quite happy with where I am in life. I've met my financial goals and I feel like I am thriving, with the good health, freedom and resources to do anything I want with my life. It wasn't easy getting to this point, but now that I have, it's time to start reaping the rewards.
Hello Youtube

In 2014, I made three Youtube videos with the Zoom Q4. I intend to make more Youtube videos and even though nothing beats a 'live' performance, especially for an intimate instrument like the classical guitar, there's something to be said about the ease of producing an uploading a video on Youtube.
Unlike a 'live' performance, there's no need for me to book a venue or worry about marketing the performance or the myriad of other tasks that goes with organising an event.
Also, I've received a few requests for Youtube videos, so I hope to produce more video content.
The year I got my Class 3A driving license
After an unnecessarily protracted training period, I finally got my class 3A driving license this year. It was a long time in the making but I'm glad to finally cross it off in my check list. Initially, I started my training under a private driving instructor, which turned out to be a terrible decision.
Even though the private instructor was able to offer me more timings than the ComfortDelgro Driving Centre (CDC), the instructor was unprofessional, lazy, unprepared and an overall terrible teacher. He also constantly got the timings of the classes wrong and was unwilling to book training sessions at the driving circuit.
At the expense of my weekend sleep-ins, I switched to  CDC, where I had to take lessons on Saturday and Sunday at 8am. But it was totally worth it – my instructors under the One Team system were more professional and structured in their training.
Now that I have my driving license, I am more excited about having my weekend mornings back and an extra $500 every month that usually went to lessons, instead of having the freedom to drive around.
UberX has changed the way I commute
It's incredibly ironic that the year I get my driving license is the same year I commit to ride-sharing platform UberX. Since experimenting with Uber, I have taken to using UberX everyday. I find the experience of UberX far superior to regular taxis; they use better cars and the drivers I've encountered appear to be happier and well-rested, resulting in less speeding and reckless driving.
The UberX drivers also tend to nail the pick-up and drop off points, unlike the countless number of taxi drivers who have driven past the Nanyang Polytechnic Campus Centre Lobby despite my explicit instructions. Here's a clue, it's not at the School of Engineering's carpark!
From my experience, the UberX fares are cheaper than regular taxis by 10% or more, provided there is no Surge pricing. With a better riding experience and cheaper rates, UberX has revolutionized my public transport habits. I now use UberX to return home from the office every day. The $280 I spent every month on UberX is still a lot cheaper than buying a car.
Want to give it a try?  You can also sign-up here. If you use my promo code p98zj you will get $10 off your first ride, and I get $10 credited to my account too.
Building a computer, a FreeNAS Server and installing a new Router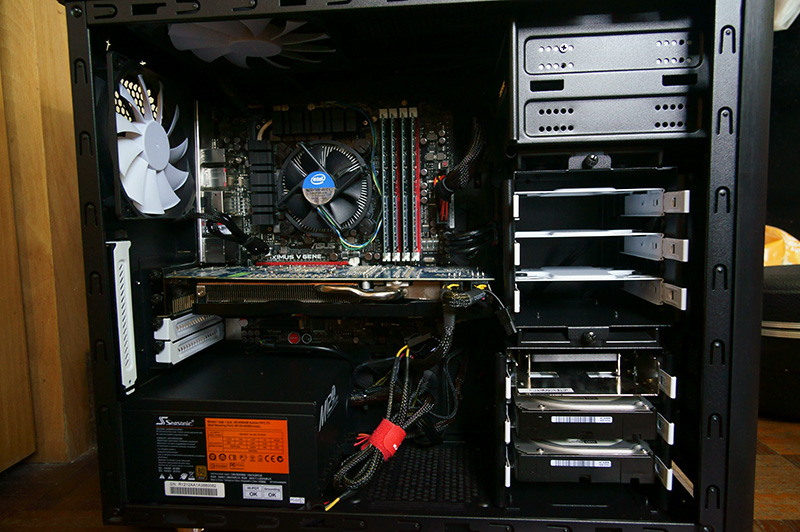 For years, I have wanted to learn how to build a computer and this was the year I did it. Besides building a Windows-based gaming PC, I went one step further and build a FreeNas server with extra parts I had laying around. Not bad for a first time builder.
I also managed to install and setup the Asus AC2400 RT-AC87U router which was quite painful due to the rat's nest of cables we had attached to the SingTel MioTV box. But the range, speed and reliability of the AC2400 is fantastic. It's much better than the default Paces router that was provided by SingTel. But is should be for $380.
I appeared on BBC's NewsDay

This is less of an achievement than a happy surprise. This appearance was my first 'live' broadcast television appearance and it was internationally syndicated and required me to perform on the classical guitar. No pressure right?
Friends and colleagues who have seen the interview have praised me for my appearance, but the whole ordeal taught me one important lesson – think twice before accepting a 'live' on-camera interview that requires you to be in the studio at 4am! I only slept for about 3 hours before the interview. At that point, I'm just glad both my interview, and my playing were coherent.