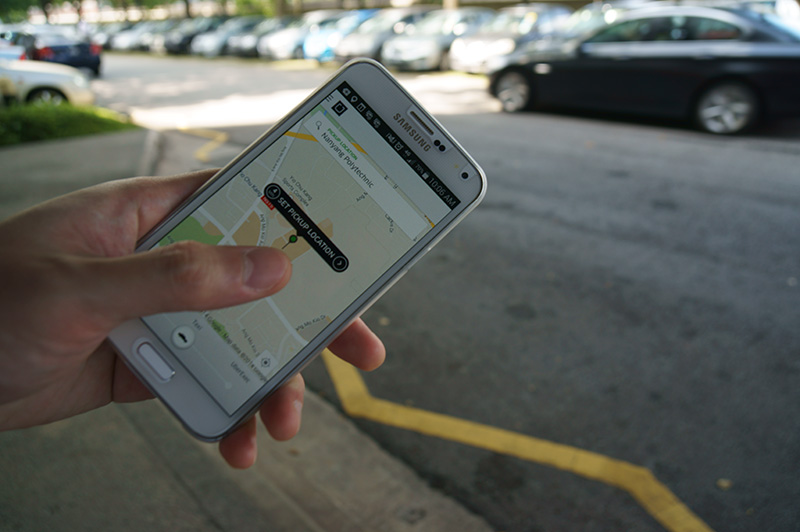 When I completed my one-month experiment with UberTaxi, I switched to UberX once the former lost its promotional 25% discount. My calculations showed that sans discount, Uber X would be cheaper than UberTaxi. I also love the idea of supporting small-time, tech-savvy  private chauffeurs instead of Singapore's convoluted taxi system.
One of my pet peeves about the system is that the fee structure is needlessly complicated. I have no idea what kind of fees to expect anymore, and it feels like a massive step back for consumers. With fares varying so wildly, how is the current system different from the old pirate-taxi days that the government worked so hard to eliminate?
Oh, right. The pirate taxis have grown-up and listed themselves on the SGX. Captain Jack Sparrow would be proud.
Enter UberX – a private car service that is cheaper and better than a taxi.
What is UberX
UberX uses private car services  (like a scaled-down limousine service) with car makes that include Hyunda Sonata, Toyota Wish and Nissan Sunny. These are private operators, and there are no markings on the vehicles to indicate that it is an Uber car. Because they are private care rental services, they are not allowed to pick up flag-downs on the road; all bookings have to be done in-app.
So if you see your favourite UberX driver whiz past as you desperately try to flag him down, don't fret. He's not trying to suan you.
Cost and Payment
The fee structure is comparable to taxis, and the time and distance travelled is calculated by the driver's Uber-supplied iPhone, which runs a version of the app for drivers. Payment is done entirely by credit card via the app, so there is no need to carry around extra cash. This means that it is impossible for fares to run away, and there is no point in trying to rob the driver late at night because he probably does not have a lot of cash on hand.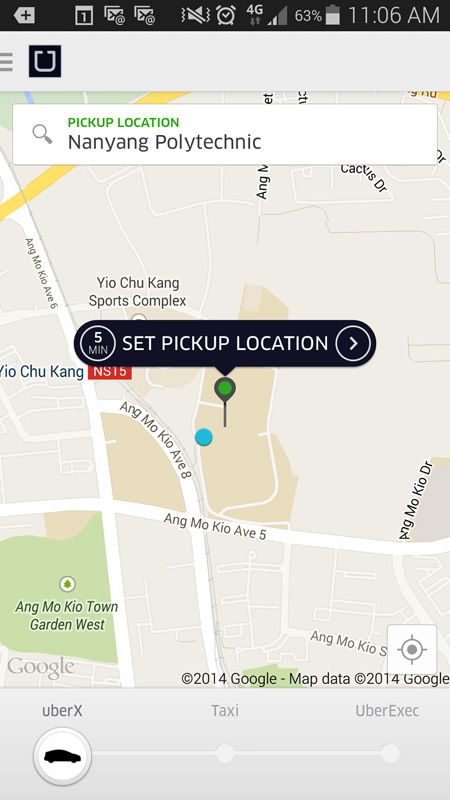 Unlike taxis, UberX does not have the ridiculous 10% surcharge for credit card payments, and if you use a card that provides online shopping rebates, you get that too!
UberX vs Taxis – Which is Cheaper?
As of 2014, here is how UberX and taxis prices compare , according to Uber and LTA
UberX
(Min Fare: $8.00, Cancellation Fee $6.00)
Off Peak
$3.50 (base fare) +$0.24 (per minute) + ($0.40 per kilometer)
Peak (Monday – Friday: 5pm-10am, Saturday/Sunday: All day)
$3.50 (base fare) +$0.30(per minute) + ($0.50 per kilometer)
UberTaxi
$3.00-3.90 (base fare) +$0.29 (per minute*) + ($0.55 per kilometer for journeys from 1km-10km* OR $0.62 per kilometer for journeys above 10km*)
* Except for SMRT Chrysler, Comfort/CityCab Mercedes Benz, Trans-Cab Mercedes Benz, Premier Mercedes Benz and other premium taxis.
Real-world price difference
Enough theoretical comparisons. I took UberX for a month so that we could look at real data.
The below results are based on my  commute from my office at Nanayng Polytechnic to my home at Kovan. All rides were taken from Monday to Friday around 5.30pm-6pm and the prices are nett, which includes surcharges and call-in booking fees for taxis.
UberTaxi (average cost based on 6 trips):
$15.28
UberX (average cost based on 6 trips)
$13.15
On average, UberX was $2.13 or nearly 14% cheaper than a taxi. It's hard to believe that a new player in the local private transport scene can provide a higher quality riding experience for less money than a deeply entrenched company like Comfort or CityCab. Disruptive technology indeed.
Is it safe?
I am aware that Uber drivers in Chicago and India are alleged to have committed rape  and another Uber customer in San Francisco was allegedly bashed in the face with a hammer by an UberX driver.
But this is Singapore, and I felt perfectly safe during  my 14 rides with UberX. Then again, I am a pretty big guy and I'm not as pretty as some young ladies out there.  I'm not sure how these same women would feel about getting in a stranger's car, though I imagine it would be no riskier than hailing a regular cab.
Surge Pricing – Something to Truly Fear
From my findings, UberX was generally cheaper than regular taxis except when Surge pricing was in effect. According to Uber, "With surge pricing, Uber rates increase to get more cars on the road and ensure reliability during the busiest times. When enough cars are on the road, prices go back down to normal levels. It's important to know that you'll always be notified in big, bold print if surge pricing is in effect. When rates are more than double, the surge confirmation screen also requires you to type in the specific surge multiplier to ensure you understand what rates to expect."
During my 14 rides with UberX, I only encountered Surge pricing once at a rate of 1.4X.   The app clearly stated that Surge was in effect, and how it would multiply my bill.
If you think paying the peak hour taxi surcharge of 25% is painful, try 40%. At least it is still better than the 50% midnight taxi surcharge.
That being said, the Surge multiplier varies. One driver claims to have seen Surge pricing leap to 4X. That's 400% of your bill!
In short, avoid UberX  when Surge pricing is in effect. Consider getting a regular taxi or even an UberExecutive car instead.
This feels like the future
At the time of this writing, I now use UberX to return home from the office every day. The $300 I spend on UberX each month is a lot less than the estimated $1.300-2,300 monthly cost of owning a car according to the Straits Times.
This change in my commuting habit is a true testament to the quality of UberX.  Also, it has completely eliminated my desire to buy a car in the short term. When I take an UberX car, I feel like a big boss being chauffered around. When I take a regular taxi, I feel like a hostage to a speeding, aggressive lane-cutting, PAP-hating uncle.
Aside from the convenient cashless payment, setting your pick-up and drop-off points via GPS or postal code makes for a fuss-free experience. You can also programme your office and home address so that you can do a one-press call for a UberX car. All the UberX drivers I have encountered have nailed the pick-up and drop-off points. No more calls from a shouting taxi driver who can't find the pick-up point, or suffering a hapless cabbie who gets lost as he ferries you to your destination.
The Uber app also allows you to see the location of your car as it makes its way to you, so there's no more worrying about the location of your taxi. It is just a terrible pity that UberX does not allow me to specify what kind of vehicle I need, especially if I need a 7-seater to accommodate more people.
The UberX drivers I've encountered appeared to be happier and well-rested compared to the average taxi driver. The UberX cars I've ridden also tend to be cleaner and in better shape than some of the taxis I have used over the years.
UberX feels like a revolutionary new service that fulfills all the promises of fuss-free, cheaper living that technology was suppose to usher in, but taxi companies have squandered over the last decade.
Uber's various controversies have proven that it is far from perfect, but in a safe country like Singapore, those are risks I am willing to take. The question is, are you?
Click here to sign up for Uber. If you use my promo code p98zj you will get $10 off your first ride, and I get $10 credited to my account too.
*8 May 2015 Update*
GrabTaxi has launched GrabCar Economy – a direct competitor to Uber X. See my review and impressions here.