When I tried GrabCar Economy, I desperately wanted to love it. I support competition because it is supposed to increase service standards and bring prices down. Having an additional player in Singapore's private transport sector also gives drivers both an extra safety net and source of income.
That's how it is supposed to work in theory, in practice, my experience was quite different.
What is GrabCar Economy?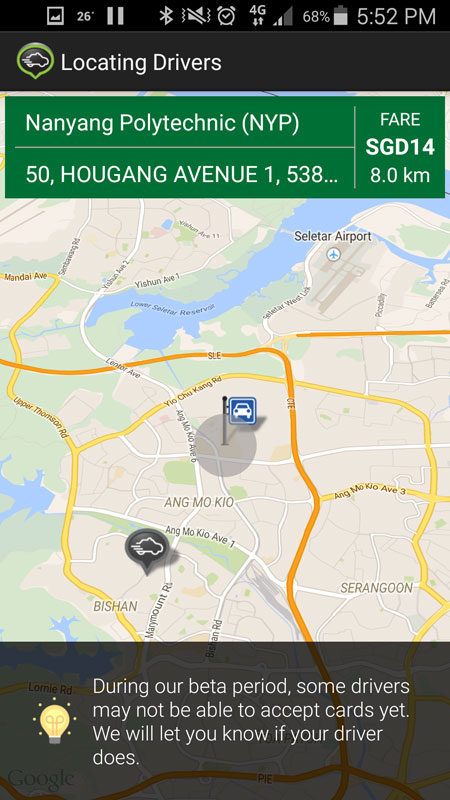 GrabCar Economy is a direct competitor to Uber X. Like Uber X, it provides private hire vehicles that are akin to chauffeur and limousine services. But these are not taxis, so they are not allowed to take flag down passengers or use taxi bays for pick-up/drop-off.
So please be considerate and understanding when boarding or alighting your GrabCar or Uber X vehicle.
Bookings are done entirely through the GrabTaxi app, which is available for both Android and iOS devices.
Pricing
Grab Car Economy's unique selling proposition is that it offers a fixed point-to-point price when you book a car. This completely eliminates any sticker shock. So if the GrabCar Economy quotes you $10 for the ride, you only pay $10, regardless of how long the ride takes.
This gives drivers a huge incentive to get you to your destination as quickly as possible. It doesn't matter if the ride takes ten minutes or one hour; the passenger only pays the pre-determined and agreed upon amount.
So how is the price determined? At the time of publication, this is how GrabCar Economy's pricing works:
"Point to point bookings
Base Fare S$3 + S$0.70 Per KM + Surcharge (if applicable)
Surcharges are dependent on time, location and demand
Advance booking fee (at least 1 hour before): S$5
Additional stops are chargeable at S$5 per stop if the additional distance travelled is less than 5 km. For distances equal to 5km and above, passengers will have to create a new booking. Maximum number of additional stops is 3.
Additional waiting time: S$5 per 10 mins
Fixed fare not inclusive of ERP charges
Hourly bookings
$35 per hour for a minimum hire of 2 hours"
It should be noted that unlike Uber X, there is no cancellation fee whatsoever. GrabCar Economy also charges $5 for additional stops, so it could be more expensive than Uber X for those who like to use private hire vehicles to run a series of errands.
Real-world price comparison
As per my comparative research on taxis and Uber X, I used the same experiment parameters for GrabCar Economy. Every day after work, at approximately 5.30-6pm, I took Grab Car Economy from my office in Nanyang Polytechnic to my home in Hougang Avenue 1.
Here's how the costs stack-up.
Grab Car Economy (average cost based on 4 trips, not that it matters since the price is fixed.)
$13.00
UberTaxi (average cost based on 6 trips):
$15.28
UberX (average cost based on 6 trips)
$13.15
On paper, GrabCar Economy is marginally cheaper than Uber X, but the $0.15 is negligible especially when you consider the less-than-stellar experience I had with GrabCar Economy.
Beyond The Price – A less than Uber Experience
What does the $0.15 discount get me? Honestly, a whole lot of trouble.
I had a great deal of difficulty booking GrabCar Economy. In order to write this review, I tried to take GrabCar Economy every day during the period of 23 April -8 May. But out of the 8 times I tried to book GrabCar Economy, I only succeeded 4 times. That's a 50% success rate. I was hoping to take at least 6 rides to bring my experience up to parity with Uber X and UberTaxi, but the lack of availability made it impossible.
And whenever GrabCar Economy failed, I had to fall back on Uber X, which never failed to find me a car within ten minutes.
Ouch.
To be fair, I found it much easier to book GrabCar Economy as time went by, and as the service matures, I am confident that there will be more availability.
My other issue with GrabCar Economy was the quality of service, which is incredibly ironic because a lot of the GrabCar Economy drivers are also Uber X drivers.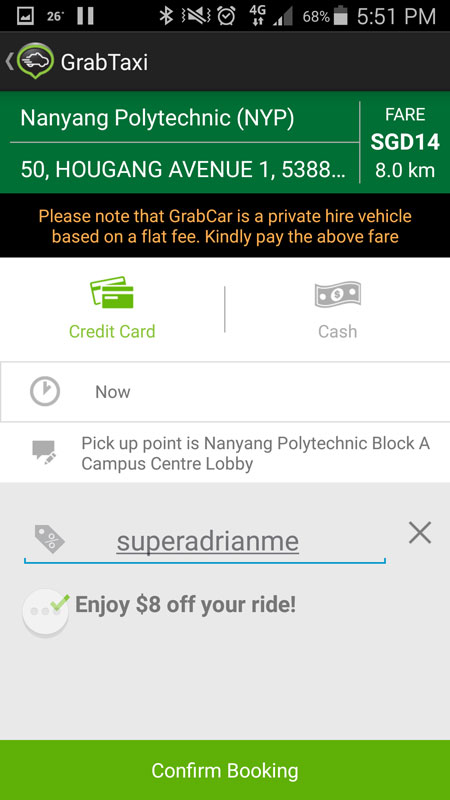 Unlike Uber X, GrabCar Economy also accepts cash payment. But this can prove to be confusing to both drivers and passengers. Once, I completed an otherwise pleasant journey, and was about to jump into the shower when the doorbell rang.
I panicked slightly as I thought my expected guest had arrived 40 minutes early, and I scrambled to get dressed. But when I answered the door, I was surprised to see my GrabCar Economy driver standing there – he was uncertain if I should have paid him in cash for the ride.
I told him that when I booked the car, I chose to pay via credit card and showed him my phone.
That was the first time in my entire life that a driver rang my doorbell to inquire about payment. He was friendly and polite, but GrabTaxi really needs to train and educate its drivers better.
I had another unpleasant experience when I used GrabCar Economy to go out for lunch with my colleagues. The car arrived earlier than I expected, so I messaged the driver to apologise and inform him that we will be down in a few minutes. Five minutes after the driver arrived, we entered his car and he showed me the blackest face I've seen since Rui En.
I found him to be a bit rude too.
I've taken over 80 Uber X journeys to date, and I try to be as nice and polite as possible. I typically give 5 stars to all my drivers, and the lowest I ever rated an Uber X driver was 3 stars for speeding and jerky driving.
I gave this GrabCar Economy Driver 2 stars – the lowest I've ever given to a driver.
I find it somewhat alarming that in the short time I've had with the service, I've gotten a GrabCar Economy experience that is worse than Uber X, despite the 80 Uber X rides I have taken.
I readily admit I was wrong in incorrectly estimating the time of the car's arrival, but considering my SMS notification-cum-apology and the mere waiting time of 5 minutes, I found the reaction to be totally uncalled for.
In the rare occasions that Uber X drivers had to wait for me, I've never received anything remotely resembling this reaction.
GrabCar Economy Vs Uber X
On the surface, both GrabCar Economy and Uber X seem similar. Both apps allow the booking of private hire vehicles that serve as competitively-price alternatives to taxis.  They even appear to use the same drivers.
But there is where the similarities end.
GrabCar Economy's fixed, up-front pricing completely eliminates the sticker-shock of Uber X's infamous Surge multiplier. But what happens when you need to change the location? How would payment work in that scenario?
Despite the flexibility, giving riders the option of paying via credit card or cash also increases the possibility of confusion. What happens if a rider chooses to pay via credit card, but absent-mindedly pays by cash? What happens if a driver receives a booking via cash payment and forgets to receive payment, having mistaken it for a credit card payment?
And when you factor in the potential for accidental double billing when using the much-appreciated promotional discounts, things become even more complicated.
As mentioned, I also experienced greater difficulty in booking a vehicle using GrabCar Economy and when I finally suceeded, the overall experience was worse than Uber X.
I think Uber takes driving ratings very seriously, going as far as to cull drivers with low ratings. Whatever the case, I've enjoyed a friendlier, higher quality of service with Uber X.
In comparison, GrabTaxi's rating system seems to be optional. The app is also buggy. It has asked me to rate my driver several times before I even started my journey.
Also, the GrabTaxi app does not appear to provide GPS directions to the driver. I've had a few drivers fumble to input my address into Google Maps before we could embark on the journey. Not exactly a seamless experience.
I also appreciate Uber's web interface, which gives me a full history of all my rides. This is very useful for accounting and calculating my costs. GrabCar Economy does not have any web interface. Everything needs to be done in-app.
So which is better?
 Once I have exhausted all my GrabCar Economy promo codes, I intend to return to Uber X. Whereas Uber X offers a tightly-controlled, heavily-curated user experience, I've found GrabCar Economy to be inconsistent.
My chief concerns are availability, and quality of service.
I love competition and I am rooting for GrabCar Economy. I will gladly give GrabTaxi my business if and when it manages to address the issues I've faced. But for now, Uber X gets my money.
Click here to sign up for GrabCar. If you use my promo code A66C52 you will get $8 off your first ride, and I get $8 credited to my account too.
If you would prefer to use Uber X, you can click here to sign up . If you use my promo code p98zj you will get $10 off your first ride, and I get $10 credited to my account too.